Half of recruiters are conducting their searches for the right candidates on Github, while the other half are not utilizing the platform. Our 2021 State of Tech Recruiting Survey illustrated this divide amongst the platforms tech recruiters use. 
Which sites do you use?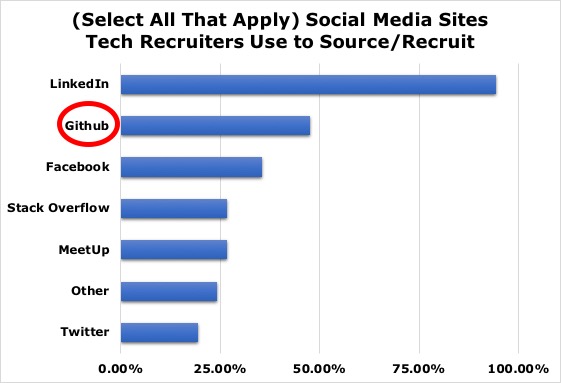 In the survey where tech recruiters were asked to select all the social media platforms they use to source and recruit:
About half of the participants selected Github

Most selected LinkedIn

Some selected other sites like Stack Overflow and Facebook
What the Other Half is Missing is Github which has over 56 million users in which your next potential candidates are more than likely being excluded from your search. You can attain more information by reading our blog on how to Use GitHub to Analyze Developer Behavior. Tech recruiters should take advantage of the benefits of using the available features on Github. 
If you do fall under the group that isn't on the platform, we highly recommend you sign yourself up. Although adding another platform to your searching can seem daunting, this will make your life and job a whole lot easier. 

Give Yourself the Advantage, take charge and separate yourself from the other half of recruiters who are not on Github. Be the one who does what others are not—make your job less stressful and more enjoyable. Give yourself the advantage, you're going to wish you joined sooner!